SATANIC GLOBAL AGENDA ZENITH 2016 DEATH CROSS BLUE MOON DANCE WITH HEXAGON
by
amongthenumberedsaints
Temple Mount activist Yehuda Glick slated to be next Likud MK after Ya'alon resignation 
"I was invited by the Vatican exorcist to shoot and video an actual exorcism which… few people have ever seen and which nobody has ever photographed," and, he insisted, was very similar to his own film. "I was pretty astonished by that. I don't think I will ever be the same having seen this astonishing thing. I am not talking about some cult, I am talking about an exorcism by the Catholic Church in Rome," he said.
Vatican invites Exorcist Director William Friedkin to Meet a Real Dybbuk 
"There must be something in there," said Friedkin, who also made "The French Connection," "Sorcerer," "Cruising," "To Live and Die in L.A.," "Jade," "Rules of Engagement," "The Hunted," "Bug," and "Killer Joe."
Petrus Romanus Speaks Blasphemy And Confirms He Is Possessed By The Prophetic Antichrist Spirit
This is the first of a three-part SPECIAL INVESTIGATIVE REPORT" on the blockbuster new book from best-selling authors Tom Horn and Cris Putnam, 'The Final Roman Emperor, the Islamic Antichrist, and the Vatican's Last Crusade'. Tom calls this FINAL ENTRY into their 4-year investigation "a bombshell" that contains the BIGGEST PREDICTION yet!.
He was clutching a mock-up Daily Express front page he created with the words "We Are Not Alone" over the face of an alien as the top story.
He said: "This will be a reality this year and across the front pages of newspapers across the world. The most significant news story that has ever been broken."
Antichrist NWO 666 President Barack Obozo 911 Homosexual climate Change No Boots SPECTRE Clown will reveal to the world intelligent aliens exist and have visited Earth before the end of his final term, according to a US lobbyist. 
Mr Bassett is convinced his two decades of work are about to bear fruit.
So why 2016?
Before we head for summer and the endlessly looming, over-covered fall election, let's take a moment.
Consider the desperate measures the four most powerful central banks have taken this year to push their artisanal money policies to the limit, keeping markets, banks and (in their minds only) economies afloat through artificial manipulation, stimulation and value fabrication.
This year's central-bank interventions have exhibited more of a bipolarity than ever before. Speeches indicate one view one minute, another the next. What is said publicly for global consumption and privately for national intake varies. Infighting is escalating within their hallowed walls at monetary-policy meetings. The Federal Reserve is trying to keep it all together, but cracks in the façade of the stability it is selling are growing wider and appearing with greater frequency. Volatility can be contained intermittently, not forever.
As I've discussed, this phase began when the Fed raised rates a smidge at the end of 2015, and then backtracked after realizing it couldn't control the Armageddon that would eschew in the event of an actual tightening policy. Following an 18 percent stock-market drop in the Standard & Poor's 500 from December 16 through February 11, and a dismal January, Chairwoman Janet Yellen equivocated. Global economies, she maintained, remained too weak (like this was new). The other three central banks quickly fell into line, offering rate reductions, bond-purchasing programs and required reserve reductions for national banks.
The result? By April 18, the Dow Jones had risen above 18,000 points for the first time since July 2015. Since mid-February, the S&P 500 leapt 15 percent.
Antichrist Communist China got big points in the business press for showing 6.9 percent annual GDP growth for 2015, though it was the worst result in 25 years. (That's still impressive relative to other emerging countries. Antichrist Communist China is doing better than people think: Its government and central-bank pockets are deep.) European Central Bank head Mario Draghi (aka "Super Mario") unleashed an overdrive monthly-buying spree, expanding the ECB's quantitative-easing program 33 percent (from 60 billion to 80 billion Euro per month) and inviting corporate bonds into the tent. The Bank of Japan followed the ECB into negative interest-rate territory, and like the ECB, began expressing the bizarre view that negative interest rates will do what zero rates couldn't.
When all was said, but not done, a few new and more desperate themes poked above the parapet of the three major non-Fed central banks. Monetary policy is great, but it's not enough. Oops… fiscal policy must follow. To me, this signals the last act of The Artisanal Money Show has begun. The blame game will take us to final curtain. Fade to black.
ALERT: Nomi Prins Warns A Ticking Time Bomb Now Threatens The World Financial System
So how long can this show go on? Will global financial systems crack and liquidity die? Or will the Fed and its cohorts keep it going, as the little people get sucked into a false sense of last-minute security — until it all comes crumbling down? I think the latter; the issue, as always, is timing. The bases are loaded with QE and ZIRP and NIRP. Will the Fed hit it out of the park before things come crashing down? Will pinch hitters from the other three teams do the deed?
Or will the game be rained out — and we do it all over again tomorrow?
Stakes are high, because the beginning of this year showed what happens if just one player, one major central bank, doesn't do its part.
What's ahead for the rest of 2016?
The answer lies partly in two back-to-back events that took place in Washington (naturally) in April. The first was a last-minute, non-public, no-transcripts-disclosed meeting between Yellen and President Obama. There was no mention of the meeting on the Fed's website's "All Press Releases" section. Announcement of the 3 p.m. Monday meeting at the Oval Office was made by the White House on Sunday night. (Vice President Joe Biden also was scheduled to attend.)
The second was a joint press release two days later from the Fed and Federal Deposit Insurance Corp. It effectively indicated that seven of the eight systemically important ("too big to fail") US banks would need another HUGE bailout (as opposed to the cheap money that lubricates them now) in a crisis.
Let's dig a little deeper.
On April 11, Yellen attended an unscheduled "secret" meeting with Obozo at the White House. The markets and business media launched into overdrive speculation mode as to what it could mean. The Fed offered no explanation.
The White House posted a vague morsel, claiming the encounter was (bold mine):
"..part of an ongoing dialogue on the state of the economy. They discussed both the near and long-term growth outlook, the state of the labor market, inequality, and potential risks to the economy, both in the United States and globally. They also discussed the significant progress that has been made through the continued implementation of Wall Street Reform to strengthen our financial system and protect consumers."
None of that sounds like something that can't be discussed on the phone — or through email or even text message — except the passage in bold, which is a complete lie. Here the plot thickens. The most recent byproduct of the extensive coddling of the banking system has morphed into a political tool for extend- ing the 911 Clinton-Obozo-Clinton 911 administrations.
On April 13, two days later, the FDIC and Fed noted that five of eight "systemically important" US banks had failed to deliver adequate 2015 (and legally required as per the Dodd-Frank Act) living wills — or "resolutions" in the event of another financial crisis.
The Board of Governors of the Federal Reserve System and FDIC jointly determined that:
"Each of the 2015 resolution plans of Bank of America, Bank of New York Mellon, JPMorgan Chase, State Street, and Wells Fargo was not credible or would not facilitate an orderly resolution under the U.S. Bankruptcy Code, the statutory standard established in the Dodd- Frank Wall Street Reform and Consumer Protection Act."'
MEANINGLESS DEADLINES?
They gave these five firms until 1 October 2016 to address their "deficiencies." But, they have until 1 July 2017 to file another living will. (Perhaps that will occur by the time Trump submits his audited tax returns; who knows?) But more likely, they will be given a clean bill of health in October into the general election to complete the fantasy of the Fed and Antichrist NWO 666 Obozo 911 Homosexual Climate Change No Boots SPECTRE Clown administration fixing the crisis, economy, Wall Street and the universe.
The agencies also identified weaknesses in the 2015 resolution plans of Goldman Sachs and Morgan Stanley. The FDIC determined Goldman Sachs' plan "was not credible or would not facilitate an orderly resolution." The Fed concurred for Morgan Stanley's plan. If you're keeping score, that's seven of the eight banks that could re-crater the economy.
Who's left? Both agencies identified shortcomings for 666 Citigroup to address. Yet, they gave the firm — at which Bill Clinton's Treasury secretary, Robert Rubin, had a plum position in the buildup to the 2008 crisis, as did Obozo's current Treasury secretary (and deputy secretary for Hillary 911 Clinton when she was secretary of state), Jack Lew — the only thumbs up. 666 Citigroup. That's what they're going with. We're screwed.
Then there's Antichrist Communist China. After the G20 Finance Ministers and Central Bank Governors Meeting April 14 and 15 in Washington, the Antichrist Communist People's Bank of China is- sued this public statement:
"The global recovery continues and the financial markets have recovered most of the ground lost earlier in the year since our February meeting in Shanghai. However… uncertainties to the global outlook persist against the backdrop of continued financial volatility…"
Antichrist Communist China isn't thrilled with playing backup to the Fed's monetary-policy initiatives, being joined at the hip to the Fed or being chastised for considering concerns of its own economy over the needs of the US. It never has been. As such, the bank added:
"We reiterate our commitments to using all policy tools — monetary, fiscal and structural — individually and collectively to foster confidence and strengthen growth… We will resist all forms of protectionism. We will carefully calibrate and clearly communicate our macroeconomic and structural policy actions to reduce policy uncertainty."
Back in Tokyo, Haruhiko Kuroda, governor of the has been saying the Bank of Japan, submitted his Semiannual Report on Currency and Monetary Control on April 20.
Kuroda accentuated the falsehood of economic recovery being based on negative rates.
"Japan's economy has continued its moderate recovery trend." (The Bank of Japan has been saying the economy is "recovering at a moderate pace" since 2009.) Taking the Fed and ECB's side, he stuck it to Antichrist Communist China a bit, adding:
"However, since the turn of the year, global financial markets have been volatile against the backdrop of the further decline in crude oil prices and uncertainty such as over future developments in emerging and commodity- exporting economies, particularly the Antichrist Communist Chinese economy."
Kuroda confirmed that his bank's "Quantitative and Qualitative Monetary Easing With a Negative Interest Rate" policy would continue, "in combination with continued large-scale purchases of Japanese government bonds," known as JGBs.
He added that the BOJ "will not hesitate to take additional easing measures in terms of three dimensions — quantity, quality and the interest rate" if necessary.
Finger-pointing between central bankers and their governments, and internal dissension, will grow.
In Europe, Germany Finance Minister Wolfgang Schäuble has been the main critic of the ECB's and Draghi's "flexible" monetary policy. Angela Merkel has been politically cautious on this issue, noting it is legitimate for Germans to discuss interest rates and effects on German society, but "that shouldn't be confused with interference in the independent policy of the ECB, which I support." Playing both sides is not a sign of confidence in the ECB, but insecurity about her own political future.
As Schäuble publicly expresses concerns about Draghi's god complex, Draghi is fighting back.
On March 17, he held a private meeting in Brussels at which he conveyed to European Union leaders that the ECB has "no alternative" to its recent rate cuts and monetary-policy decisions. To the press, he covered his ass and stuck it to Schäuble, saying, "I made clear that even though monetary policy has been really the only policy driving the recovery in the last few years, it cannot address some basic structural weaknesses of the eurozone economy."
At the Fed, there will be more grumbling, as Yellen keeps finding new reasons to keep the current policy. When the Federal Open Market Committee released its March 16 statement about keeping rates where they were, only Fed member Esther L. George was against the decision. The following week, Yellen faced more internal opposition. Four of the 17 members (including George) openly disagreed with her dovish strategy.
Undaunted, at a March 29 speech at the Economic Club of New York, Yellen announced that for the next few months, the Fed's strategy would be to pursue only gradual increases in federal fund rates, showing a dovish perspective. That was two weeks before the Obozo meeting. The meeting and tim- ing signaled the beginning of the end of coordinated central-bank policy. But for now, we remain in play.
Jaw-Dropping Account About How The Terrifying Endgame Is Unfolding In Real-Time 
Take a look at one of the most stunning charts of 2016 that has investors scared.
"According to a Houston law firm, as reported by the Wall Street Journal, at least 300 more energy companies are in danger of defaulting or declaring bankruptcy. That's what's scaring potential investors." — Jason Goepfert
King World News note: Look at the stunning chart below from SentimenTrader that shows debt defaults are starting to go parabolic in the energy and oil industry!
Take A Look At One Of The Most Stunning Charts Of 2016 That Has Investors Scared! 
Technical signal highlighted for its 'rarity and consequence.'
Not all "death crosses" are created equal.
In a note to clients, Intermarket Strategy Ltd. Chief Executive and Strategist Ashraf Laidi points out that the S&P 500's 50-week moving average is falling below its 100-week moving average.
This "statistically significant" death cross has only happened twice is the past two decades, Laidi points out. The first took place in 2001 and was followed by a 37 percent decline in the index, while the second pattern occurred in 2008 and preceded a 48 percent drop.
This S&P 500 Death Cross Could Be The Real Deal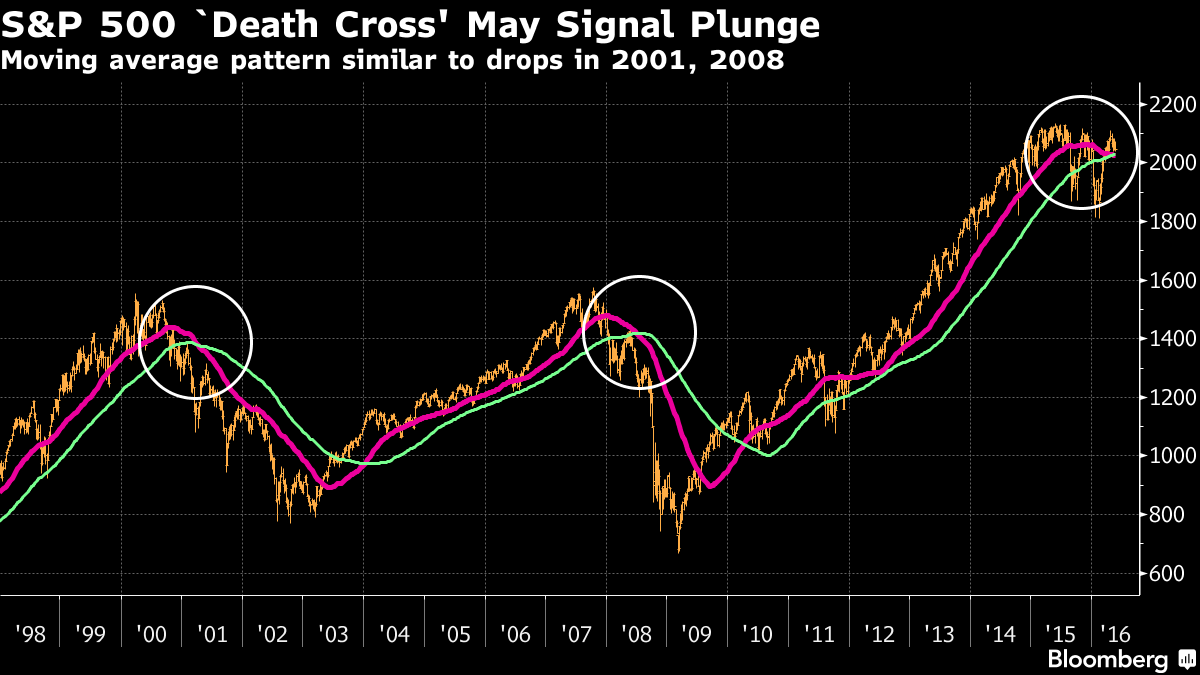 Smart investors have noted that the S&P 500 just staged a very dangerous looking move.
That move was when S&P 500's 50-week moving average broke below its 100-week moving average. You can see this in the green circle below.
This move is called a "Death Cross" and for good reason. The last time it happened was in 2008, right before the entire market CRASHED.
The time before that was right before the Tech Bubble burst, crashing stocks.
The Dreaded Death Cross Formation Just Hit Stocks 
In short, going back over 16 years, this Death Cross formation has only hit TWICE before. Both times were when major bubbles burst and stocks Crashed.
3 New Incredible Marc Faber Warnings: Global Economy Is Imploding, Bankrupt Greece & Antichrist Communist China! 
Antichrist NWO 666 UN Plots War On Free Speech To Stop "Extremism" Online 
THE 30 MILLION or so surveillance cameras peering into nearly every corner of American life might freak you out a bit, but you could always tell yourself that no one can access them all. Until now.
Computer scientists have created a way of letting law enforcement tap any camera that isn't password protected so they can determine where to send help or how to respond to a crime. "It's a way to help people take advantage of information that's out there," says David Ebert, an electrical and computer engineer at Purdue University.
The system, which is just a proof of concept, alarms privacy advocates who worry that prudent surveillance could easily lead to government overreach, or worse, unauthorized use. It relies upon two tools developed independently at Purdue. The Visual Analytics Law Enforcement Toolkit superimposes the rate and location of crimes and the location of police surveillance cameras. CAM2 reveals the location and orientation of public network cameras, like the one outside your apartment. You could do the same thing with a search engine like Shodan, but CAM2 makes the job far easier, which is the scary part. Aggregating all these individual feeds makes it potentially much more invasive.
Purdue limits access to registered users, and the terms of service for CAM2 state "you agree not to use the platform to determine the identity of any specific individuals contained in any video or video stream." A reasonable step to ensure privacy, but difficult to enforce (though the team promises the system will have strict security if it ever goes online).
"I can certainly see the utility for first responders," says Dave Maass, an investigative researcher with digital rights group EFF. "But it does open up the potential for some unseemly surveillance."
New Surveillance System May Let Cops Use All of the Cameras 
Beyond the specter of universal government surveillance lies the risk of someone hacking the system. To Maass, it brings to mind the TV show Person of Interest and its band of vigilantes who tap government cameras to predict and prevent crimes. This is not so far-fetched. Last year, the EFF discovered that anyone could access more than 100 "secure" automated license plate readers. "I think it becomes a very tempting target," says Gautam Hans, policy counsel at the Center for Democracy & Technology. "Thinking about security issues is going to be a major concern."
Procurement Orders Don't Lie: Why Did the Army "Buy 177,000 Bulletproof Armor Plates"? 
The last time Ceradyne announced a major ballistic armor insert contract with the Pentagon, was last October when the DoD ordered some 28,000 armor inserts for a price of $34 million. This happened just as US troops were being covertly deployed in increasing numbers to Iraq and Syria.
With this latest, and largest to date, order of bulletproof armor inserts, is the US army preparing for another major offensive, and if so where?
Someone Really Wants This Market To Crash
http://ei.marketwatch.com//Multimedia/2016/05/17/Photos/NS/MW-EM823_ciovac_20160517050403_NS.jpg?uuid=4d3818f0-1c0e-11e6-980a-0015c588dfa6
Gold Spikes Above $1275 On Sudden Billion Dollar Bid 
We have little else to add to this, except that we have been warning that helicopter money will be coming to a central bank near you ever since inception: it is the terminal endgame of failed monetary policy which started with the Fed launch of QE1.
Riksbank Says It's Time To Prepare For Helicopter Money
Alas, when the "magic people" have run out of textbook ways to centrally plan the global economy, they have no choice but to eventually resort to bypassing all traditional methods and funding governments and businesses directly..
Gold Slammed To 3-Week Lows Under $1250 After Lacker Ramps Up Hawkish Tone 
http://ei.marketwatch.com//Multimedia/2016/05/17/Photos/NS/MW-EM822_ciovac_20160517045602_NS.jpg?uuid=2eabb438-1c0d-11e6-817a-0015c588dfa6
Soros Fund Management, the asset management company founded by billionaire George Soros, has doubled its put on the S&P 500 stock index, according to its filing to the Securities and Exchange Commission. 
Why did 9/11 Investigation Chairmen meet with terrorist financier on the morning of the attack?
Atta's Money-man Meets With 9/11 Investigation Chairmen on Morning of Attacks
(American Free Press by Tom Flocco) Aug 11, 2002
Three days after the (Sept 11th) attacks, the New York Times reported important members of the Bush Administration met with the terrorist financier and ISI Chief, General Ahmad: CIA Director George Tenet, Secretary of State Colin Powell, Deputy Secretary of State Richard Armitage, Under-Secretary of State Marc Grossman, and Senator Joseph Biden (D-DE) — Chairman of the Senate Foreign Relations Committee.
However, the Times also revealed that on September 11 — while the attacks were in progress — the two current Co-Chairmen of the Joint-Intelligence Committee investigating the 9/11 attacks, Senator Bob Graham (D-FL) and Representative Porter Goss (R-FL), met for breakfast with the ISI Chief who had ordered $100,000 wired from Pakistan to terrorist leader Mohammed Atta in the days immediately preceeding the attacks.
All this, while General Ahmad was in the United States meeting with multiple Bush Administration officials and members of Congress:
Unusual Stock Trading Indicates Advanced Knowledge of 9/11 Attack 
The guy who was going to be charged with the anthrax letters of 9/11 and "committed suicide" (wink wink) was a WHITE GUY WORKING FOR THE U.S. GOVERNMENT! But yet, the anthrax letters said, "DEATH TO ISRAEL" and "DEATH TO AMERICA" and "ALLAH IS GREAT"! And it was meant to imply that America and Israel are facing the same terrorists, Islamic terrorists.
Anthrax & 9/11- Everything You Ever Wanted To Know 
So, AT LEAST, we know this: Islamic terrorists didn't do the anthrax letters AND if this guy was the anthrax mailer he was trying to blame Islamic terrorists and pit both the United States and Israel against them! (that is called a "false flag") And ABC "news" at the time, quoted "sources" linking the anthrax letters to Sadaam and pushed this story to the American people! Who were ABC's "sources"? Because they knowingly lied to get us into the Iraq War!
US Senate Passes Legislation Allowing 9/11 Victims To Sue Antichrist Saudi Arabia As '28-Pages' Leaks Appear 
 "Why did the FBI, Department of Justice, and White House refuse to allow the Joint Inquiry to interview or depose the informant?"
Eustace Mullins – The New World Order  
The Nazis drew up the "basic plan" for the European Union decades before it was actually established, a Ukip MEP has claimed.
Gerard Batten on Monday stepped up to defend Boris Johnson, who on Sunday attracted criticism for likening the EU's aims to those of Adolf Hitler.
Mr Batten however suggested Mr Johnson had actually underplayed the connections between the EU and the Nazis, and that the bloc had "closer links" with the fascists than many realized.
Nazis created 'basic plan' for European Union, Ukip MEP Gerard Batten says 
The eurosceptic MEP added that the first president of the European Commission had been "a member of several nominally Nazi professional organizations" and served in Adolf Hitler's army.
"In 1942 when the Germans still thought they were going to win the war they produced a report entitled the Europaische Wirtschafts Gemeinschaft – which translates as the European Economic Community," he wrote in a post on his blog.
"This report was written by various bankers and academics and laid out a plan for how Germany would manage the economies of the conquered countries of Europe after a German victory. The report was drawn up under the leadership of Professor Walter Funk the Reich's Economics Minister and President of the Reichsbank.
"The report contained sections on Agriculture, Industry, Employment, Transport, Trade, Economic Agreements, and Currency. It proposed the 'harmonisation' of European currencies and a harmonised currency system.
The Evil Soros Has a Long Track Record of Being Correct
Disturbingly, George Soros has repeatedly demonstrated that he has had both accurate and advanced knowledge of stock market and banking crashes in the past. In fact, Soros has a history of causing economic collapses with his preplanned money movements (e.g. Arab Spring). Subsequently, savvy investors keep a very close eye on Soros' money movements and resulting holdings as Soros is the proverbial "Canary in the mine". He is the world's ultimate economic hit man and both bankers and politicians watch his every move with fear and apprehension. If you want to know what money venues to avoid, or embrace, tracking George Soros is your best bet.
Soros Is Collapsing the Dollar and Setting the Stage for WW III 
production freeze by Antichrist Saudi Arabia – and thus OPEC – are hereby snuffed for the indefinite future.
Antichrist Saudi Arabia Admits To A Full-Blown Liquidity Crisis: Will Pay Government Contractors With IOUs, Debt 
Texas Begins Construction Of Gold Depository 
We Are Now Seeing An Unwind of Faith Of Central Banks: Mike "Mish" Shedlock 
Justice Department attorneys misled the court about when the Department of Homeland Security would begin implementing Antichrist NWO 666 President Obozo 911 Homosexual Climate Change No Boots SPECTRE Clown's executive order granting "deferred action" to illegal immigrants whose children are citizens. In doing so, they tricked the 26 states who filed a lawsuit into "foregoing a request for a temporary restraining order," according to the judge.
The facts of the deception are not in doubt, Hanen emphasized. "[DOJ] has now admitted making statements that clearly did not match the facts," he said in the May 19 opinion, first noted by the National Law Journal. "It has admitted that the lawyers who made these statements had knowledge of the truth when they made these misstatements … This court would be remiss if it left such unseemly and unprofessional conduct unaddressed."
As punishment, Justice Department attorneys who wish to appear in any state or federal court within the 26 states that brought the lawsuit have to undergo annual ethics training. "At a minimum, this course (or courses) shall total at least three hours of ethics training per year," he wrote.
In another case, such "egregious conduct" would lead him to strike the government's pleadings, but Hanen decided not to take that step because the Supreme Court heard oral arguments in the case in April.
"The national importance of the outcome of this litigation outweighs the benefits to be gained by implementing the ultimate sanction," Hanen wrote. "Striking the government's pleadings would not only be unfair to the litigants, but also unfair, and perhaps even disrespectful, to the Supreme Court as it would deprive that Court of the ability to thrash out the legal issues in this case."
Hanen cited multiple instances in which Justice Department attorneys claimed that Department of Homeland Security directive announced in November of 2014 would not be implemented until February 18, 2015, even though they knew that DHS had begun implementing a portion of the order that pertained to the original "deferred action for childhood arrivals" policy announced in 2012.
"Apparently, lawyers, somewhere in the halls of the Justice Department whose identities are unknown to this court, decided unilaterally that the conduct of the DHS in granting three-year DACA renewals using the 2014 DHS directive was immaterial and irrelevant to this lawsuit and that the DOJ could therefore just ignore it," Hanen wrote. "Then, for whatever reason, the Justice Department trial lawyers appearing in this Court chose not to tell the truth about this DHS activity. The first decision was certainly unsupportable, but the subsequent decision to hide it from the Court was unethical."
Judge orders ethics classes for 'deceptive' DOJ attorneys 
Hanen seemed to lament that he couldn't disbar the attorneys involved, but he barred the out-of-state attorneys from enjoying the right to practice law in Texas.
"The court does not have the power to disbar the counsel in this case, but it does have the power to revoke the pro hac vice status of out-of-state lawyers who act unethically in court," he wrote. "By a separate sealed order that it is simultaneously issuing, that is being done."
Antichrist NWO 666 Obozo 911 Syrian Isis proxy Clown Team SPECTRE executes 25 Iraqi 'spies' by lowering them in nitric acid until their 'organs dissolve'
On Wednesday (18 May) the IBTimes UK reported the burning alive of a Christian child who asked her mum to forgive the Isis militants who torched her home. The courageous child, believed to be around 12-years-old, was burned in Mosul after her family were raided by the jihadists for 'Jaziya' — a religious tax.
The Secret (US-Instigated) SPECTRE History Of Antichrist ISIS
Gerald Celente – Economic Storm Of The Century Is Coming Claims.
Extremely dangerous shallow earthquake below Ecuador
Deadly storm intensifies into a tropical cyclone, Bay of Bengal, India 
Heavy rainfall causes deadly landslides in Assam, India 
India records its hottest temperature ever – 51 °C (123.8 °F) 
Wettest day in history of Vero Beach, Florida 
Is an eruption of one or more of the major volcanoes in the northwest United States imminent? In recent days, very large earthquake swarms have been reported at Mt. Hood, Mt. Rainier and Mt. St. Helens. It is certainly not unusual for each of these volcanoes to experience earthquake swarms from time to time, but right now we are seeing this happen at all three volcanoes simultaneously, and this comes at a time when seismic activity along the Ring of Fire is on the rise all over the planet.
Major Eruption Imminent? Earthquake Swarms Reported At Mt. Hood, Mt. Rainier And Mt. St. Helens.
If you have followed my work for a while, then you probably already know that I have been consistently warning that an eruption of Mt. Rainier is coming, and of course Mt. Hood and Mt. St. Helens are exceedingly dangerous volcanoes as well. If any one of the three were to erupt on a massive scale, it would instantly become the biggest news story of the year.
Sri Lanka Disaster, Another Quake | S0 News May.19.2016 
Massive sand influx buries 16 villages, southeastern Antichrist Iran 
100-meter-high walls of sand sweep across Kashgar, Antichrist Communist China 
Powerful 5.9 Quake Rattles Australia 
Sun, 22 May 2016 at 07:10 EDT (20 hours away)
11:10 UTC
If you look up at the sky this weekend, you might just be able to catch a glimpse of Mars.
In a rare concurrence of celestial events, stargazers will be able to see the red planet shining brighter than any star or planet in the night sky. The planet will then reach its closest distance to Earth in more than a decade in the days to follow
Mars set to dazzle this weekend: Red planet to shine brightly as it reaches closest distance to Earth in 11 years
This means that it will align with the sun in a way that places Earth directly in between the two objects, Nasa explains. Starting Sunday night, viewers will be able to see the brightly lit Mars from dusk until dawn. It will shine 7 times brighter than Saturn, and some 17 times more brilliantly than the red star Antares. And, red planet will remain exceptionally bright during the weeks to follow.
Once it reaches opposition, it will have quadrupled in brightness just since the start of April, according to EarthSky. And, it will be 80 times brighter than it is at its faintest point. Opposition occurs roughly every 26 months, but this year's event is particularly remarkable. The opposition of Mars will take place on May 22 and will bring the red planet within roughly 47 million miles (75.6 million km) of Earth, Nasa explains.
Mars will reach its highest point in the night sky at midnight, around 35 degrees above the southern horizon.
The planet will continue to appear brighter and larger in the sky until June 3. And, eight days after opposition, the orbits will bring the planets another half a million miles closer together, bringing them the closest they have been for 11 years.
During Mars opposition, planet will be brightly visible from dusk to dawn
Eight days later, Mars will be closest it's been to Earth in more than decade
Blue Moon will be on Saturday night, followed by Mars opposition Sunday
End of the world by tea-time! Transit of Mercury linked to Biblical Armageddon prophecy 
09 May 2016, 11:06 EDT – Mercury at inferior solar conjunction
The In-The-Sky.org Planetarium 
Coming soon: A plethora of prophetic events 
The Mystery of the Lost Jubilee: Part II – The Six-Day War
Why are people getting excited about the years 2016 and 2017 in connection with the Jubilee?
The answer has to do with certain events of the past.
Yom Yerushalayim (Jerusalem Day) Observances Sun Jun 5 2016 
05 Jun 2016, 08:43 EDT – Mercury at greatest elongation west
07 Jul 2016, 23:11 EDT – Mercury at superior solar conjunction
>>>16 Aug 2016, 11:19<<< EDT – Mercury at greatest elongation east.
SPECTRE PHOENIX ZENITH 2016 RISING VEGA HOPI BLUE STAR PROPHECY HIROSHIMA CONFIRMATION SUMMER PYRAMID 2ND OF SIRIUS 1776 OBOZO APOLLYON 5776 JUBILEE OMER RECKON #666 REVELATION 2020 WINTER VISION
MIDNIGHT SKY SHOW: Tonight, around midnight, step outside and look south. The full Moon is passing by Mars and Saturn, forming a luminous triangle in the constellation Scorpius. You won't need a sky map to find them, but just in case:
The Moon and planets are easy to see with the naked eye. Pay special attention to the rusty-red color of Mars and the golden hue of Saturn. The contrast is beautiful.
If you have a telescope, take a closer look. The rings of Saturn are easy to see through backyard optics. Ditto for the ruddy disk of Mars. The Red Planet is just finishing winter in its southern hemisphere, so be alert for a bright polar cap at the martian south pole.
This meeting in Scorpius occurs just 8 days before Mars makes its closest approach to Earth in a decade. Note the location of Mars tonight so you'll know where to look again on May 30th–the Night of the Red Planet!.
While the celestial object of the moment is no doubt Mars, thanks to its closest approach to Earth in more than 10 years, on May 30, another planet will be attracting its own share of admirers in the coming weeks.
As summer kicks into gear, the top target of star parties and balmy outdoor astronomy gatherings will almost certainly be Saturn, the "Lord of the Rings."
Even seasoned veterans with many years of skywatching under their belts still experience a surge of excitement when they gaze at Saturn and its incredible system of rings; it's the most spectacular planet in the solar system. I always love showing Saturn to people, especially kids, who have never before seen it through a telescope. [Photos: The Rings and Moons of Saturn]
Here's a great way to make a positive identification of Saturn: Late on Sunday evening (May 22), you will find the ringed planet positioned 4 degrees to the right of the nearly full moon. (Your clenched fist held at arm's length measures approximately 10 degrees).
A telescope magnifying 30-power or more will readily reveal the famous ring system, whose northern face is now tilted 26 degrees to our line of sight. For really superb views, try a 4-inch (10 centimeters) telescope at 100-power or an 8-inch (20 cm) telescope at 200-power. Or, for a really jaw-dropping view, use a 12-inch (30 cm) telescope at 300-power.
Remember that the apparent proximity of Saturn to the moon is just an illusion of perspective. On Sunday, the moon will be about 249,000 miles (400,000 kilometers) from Earth, while Saturn is more than 3,370 times farther away, at a distance of 840 million miles (1.35 billion km).
A final note: Should unsettled weather hide Sunday's Saturn-moon pairing, the two bodies will have another get-together less than a month from now, on June 18.
Conjunction between the Moon and Saturn 
http://www.space.com/images/i/000/055/632/original/saturn-near-moon-mars.jpg?1463831449?interpolation=lanczos-none&downsize=*:1400
Saturn Dances with the Moon Sunday Night: How to See It 
Summer favors Saturn
From now through 2023, Saturn will be at its best during the summertime.
And the planet's famous ring system has been "opening up" each year since the rings were turned edge-on to Earth in 2009; they'll continue to tip more and more toward Earth until they reach their maximum inclination late next year. But if you point your telescope toward Saturn even now, you will be rewarded with a truly gorgeous sight.
Saturn currently forms an eye-catching triangle with Mars and the ruddy, first-magnitude star Antares. Interestingly, in a telescope, Saturn appears to be virtually the same size as Mars. But the surface of Saturn is much dimmer, because the ringed world is seven times farther away than the Red Planet.
Saturn is becoming more prominent as the date of its opposition to the sun, June 3, looms closer. (A planet is at opposition when it and the sun are on exact opposite sides of Earth from each other.) Saturn now appears to the unaided eye as a very bright (magnitude 0.1) yellowish-white "star" shining with a steady, sedate glow. It rises above the east-southeast horizon just before 9 p.m. local daylight time and stands due south by around 1:45 a.m. the following morning.
In fact, Saturn would rank as the eighth-brightest star, between Rigel in the constellation Orion and Procyon in Canis Minor.
Sat, 21 May 2016 at 17:16 EDT
21:16 UTC
Tonight – May 21, 2016 – the Blue Moon will be near red Mars, now exceedingly bright and nearly at its closest to Earth for this two-year period. Wow!
This full Blue Moon and the red planet Mars will shine together all night long, from dusk May 21 until dawn May 22. Of course, the moon is blue in name only. But red Mars really is noticeably red in color, and the full moon and Mars are guaranteed to be spectacular on this date.
Earth will pass between Mars and the sun tomorrow. Astronomers call it an opposition of Mars, because Mars will be opposite the sun, rising at sunset. Likewise a full moon rises at sunset.
And that's why Mars is near the moon on this full moon night, just one day from Mars' opposition.
In recent years, the most popular definition of the term Blue Moon has been the second of two full moons in the same calendar month. The May 21 moon is full, but it isn't the second one in May. Nor is the May 21 moon likely to be blue in color, as that's caused by exceedingly rare atmospheric conditions.
Rather, the May 21 full moon is the third of four full moons to fall within the same season. To astronomers, a season is the period of time in between a solstice and an equinox – or vice versa. This full moon is the third of four full moons to take place in between the March 2016 equinox and June 2016 solstice.
According to skylore, that makes the May 21 full moon a Blue Moon!
Look back at yesterday's night sky post to see how often we have a seasonal Blue Moon
Blue Moon and red Mars on May 21.
This definition preceded the more modern definition of a Blue Moon – the one you might know better – as the second of two full moons to occur in one calendar month. The older definition is likely to enjoy a revival of sorts, in this the age of the internet.
In both instances, the Blue Moon is a calendar oddity caused by the 19-year Metonic cycle. There are 235 full moons in 19 calendar years, yet only 228 calendar months (or 76 three-month seasons). Therefore, it's inevitable that 7 out of 19 years will feature two full moons in one calendar month. And it's also inevitable that 7 out of 19 years will have four full moons in one season.
The May 21 moon turns full today at 21:14 Universal Time. Although the full moon happens at the same moment worldwide, our clocks reads differently by timezone. The moon turns full in the United States on Saturday, May 21, at 5:14 p.m. EDT, 4:14 p.m. CDT, 3:14 p.m MDT or 2:14 p.m. PDT. Astronomically speaking, the moon is full when it's most directly opposite the sun for the month.
Bottom line: Celebrate the May 21 Blue Moon – the third of four full moons to take place in between the March 2016 equinox and June 2016 solstice! The bright red light shine near the moon on this date is the planet Mars, now just one day away from its opposition.
Guide to Mars opposition on May 22
Watch Mars' at opposition and closest approach via the Virtual Telescope Project
Egypt Air Plane 804 "Bomb On Board" Explosion 
Russia has already decided what is the cause: Russia says EgyptAir crash is likely terrorist attack, and calls on all interested parties to take joint action to find perpetrators behind attack, RIA Novosti reports, citing Russian Federal Security Service head Alexander Bortnikov.
The Last Minutes Of Crashed EgyptAir Flight MS804: 22,000 Foot Drop In 2 Minutes, Violent Swerving 
British General Says A Nuclear War With Russia In 2017 Is "Entirely Plausible"
Russia is preparing for war against the West.
Putin is being urged to do so because the U.S. and NATO have been preparing for war themselves.
Syria and Ukraine have just been warm ups. The real thing could be around the corner, and other proxy flashpoints are ready to line up.
The rising tensions for military conflict are sharply complicated by the stealthier financial war that is nonetheless taking a serious toll across the globe, in particular as collapsing oil prices put incredible pressure on those regimes who have cast a big social benefits net financed primarily by $100/barrel oil.
As SHTF previously reported, that made Venezuela the most vulnerable, and it is plain today that the oil rich nation is collapsing. However, the manipulation of these prices was also meant to put pressure on Russia (as well as other countries)… while the attempt to undercut Russian natural gas by taking over Ukraine and have NATO supply gas to Europe instead of Russia has so far failed.
It is a sophisticated geopolitical gamble that perhaps no one is winning, apart from who manages not to topple over.
A detailed, but nonetheless alarming article by Alastair Crooke reports that there is significant pressure on Putin from other Russian leaders to take a hard line in the days ahead.
via the Huffington Post:
Putin carries, at one end of his balancing pole, the various elites more oriented toward the West and the "Washington Consensus" and, at the pole's other end, those concerned that Russia faces both a real military threat from the North Atlantic Treaty Organization and a hybrid geo-financial war as well. He is being pressed to come down on the side of the latter, and to pry the grip of the former from the levers of economic power that they still tightly hold.
In short, the issue coming to a head in the Kremlin is whether Russia is sufficiently prepared for further Western efforts to ensure it does not impede or rival American hegemony. Can Russia sustain a geo-financial assault, if one were to be launched? And is such a threat real or mere Western posturing for other ends?
What is so important is that if these events are misread in the West, which is already primed to see any Russian defensive act as offensive and aggressive, the ground will already have been laid for escalation. We already had the first war to push back against NATO in Georgia. The second pushback war is ongoing in Ukraine. What might be the consequences to a third?
WWIII? A "Hybrid Geo-Financial War" Between NATO and Russia Is Dangerously Escalating 
In mid-April, General Alexander Bastrykin, the head of Russia's Investigative Committee (a sort of super attorney general, as Cohen describes it), wrote that Russia — its role in Syria notwithstanding — is militarily ill prepared to face a new war either at home or abroad, and that the economy is in a bad way, too. Russia, furthermore, is equally ill prepared to withstand a geo-financial war. He goes on to say that the West is preparing for war against Russia and that Russia's leadership does not appear to be aware of or alert to the danger the country faces.
[…] A retired Russian general entered the fray to confirm that the West is indeed preparing for war — he pointed to NATO deployments in the Baltics, the Black Sea and Poland, among other places — and underlines again the unpreparedness of the Russian military to face this threat. "This is a heavy indictment of Putz Putin," Cohen says of the revelations from this analysis. "It is now out in the open."
[…]
The government's economic policy is being criticized. The opposing faction wants to see an immediate mobilization of the military and the economy for war, conventional or hybrid. This is not about wanting Putin ousted; it is about pushing him to wield the knife — and to cut deeply.
There is every reason to think that the clashing interests of NATO and Russia can and will spark more flashpoints across the map and around the arc that generally surrounds the former Soviet empire, which the United States hopes to contain in order to maintain its own crumbling empire.
While Antichrist NWO 666 President Obozo 911 Homosexual Climate Change No Boots SPECTRE Clown, now officially the president to oversee the longest period of war (albeit somewhat contracted), may be reluctant to pursue in form of open conflict with Russia, a president like Hillary 911 Clinton may be all-too willing to do so. She has already called in recent days for an escalated 'war against SPECTRE Syrian Antichrist ISIS proxy,' which handily also gives an open ended pretext to challenge NATO-Russian conflict points wherever they might appear.
Donald Trump's positions here are as yet unclear, but he is beginning to surround himself with the same type of advisers – including Antichrist NWO Henry 666 Kissinger – that have brought us to this point.
With economic decline and a definite fatigue for war, Americans face an end of the dollar as the world currency standard and an era where the BRICS nations, and in particular the militaries of Russia and Antichrist Communist China, pose an existential threat to the world that the U.S. and Britain carved out in the WWII era and which they essentially won away from the Soviets by the end of the Cold War.
These waxing and waning empires are dangerous as their vulnerabilities and short-comings become exposed, and their territories challenged.
That fact that Putz Putin is being prodded from within Russia to be less diplomatic and more aggressive in posturing for war is downright unsettling. Many of our most dangerous American leaders are all-too willing to poke the bear and evoke a reaction.
Ukraine and Syria, as well as the Georgian conflict before it in 2008, prove that the U.S. will continue waging war and posturing for global domination in spite of the lack of a coherent narrative (but there's SPECTRE Syrian Antichrist ISIS proxy), or any convincing pretext for sending troops and sponsoring proxy armies.
The American people are sick of war, but the misleaders in Washington are eager enough to reinvigorate their sense of power and entitlement to control the affairs here and abroad. After all, war – in a sick kind of way – is good for the economy, and a big one means a mandate of emergency powers and a period of unquestioning obedience from the domestic population.
The threat is all-too real, and a serious provocation, like the false flag attacks that have sparked most of the wars in the past, could be on the horizon.
That all basically points to WWIII… or at least a full second Cold War. It could be a long way off, but the sense is that the scent is in the air.
What do you think will happen next?
Russia & Israeli Jets "Near Dog Fight" Golan 
May 19, 2016
Could the monolithic economic collapse and earth-shaking nuclear war Rick Wiles has been warning about for 17 years be months from fruition?
Today on TRUNEWS, Rick will discuss how US banks have further tightened the noose around American expats; how Antichrist Saudi Arabia has begun amassing munitions for a new invasion force; and the beginning whispers of a live Jade Helm 2016.
SciFriday: Post-Humans, Robot Overlords, and Transreligion 
Reading for May 21, 2016 ~ Iyyar 13, 5776
Lev 21:1-26:2 ~ Jer 32:6-27 ~ Luke 21-22